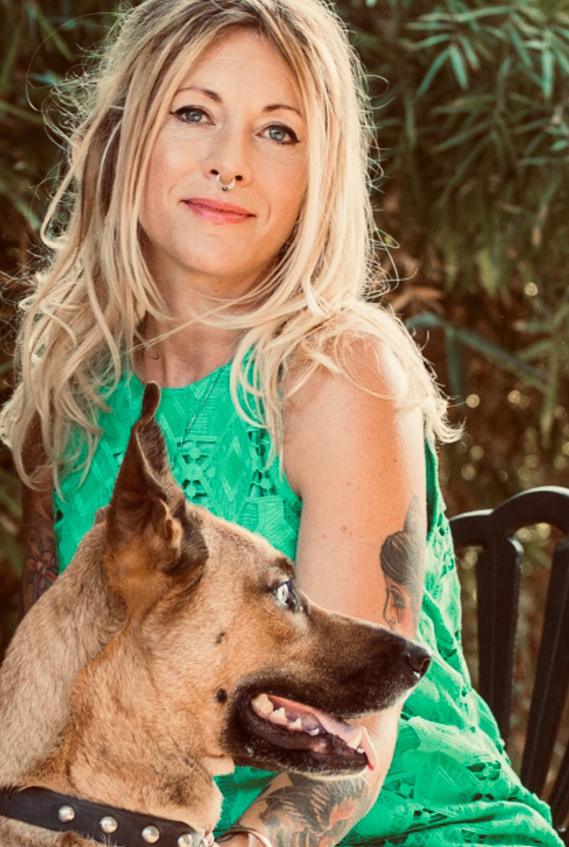 Brooke Kent is a Los Angeles-based artist and designer whose work is inspired by our sublime existence and mortality. Themes of Love, Loss, and Nature are richly layered in her oil paintings with ethereal and dark symbolism. Sometimes she throws in a touch of subversion or kink to keep things fun.
Brooke's work has been featured in international publications, media, and galleries since 1999. She attended the Art Center College of Design, and received a Bachelor's degree in Illustration in 2004. For nine years, she was the director and an instructor for an academy in graphic design and multimedia for at-risk youth, leaving that behind in 2014 to devote to her full-time art career. In 2019, Brooke co-curated the Dark Arts-themed show "Lux in Tenebris" with the founder of AHUIXA at Lethal Amounts Gallery, which showcased 40 artists from around the world.
Besides her endless love for painting, Brooke also creates various design and branding packages for businesses and bands.
Please get in touch for more information on licensing/design/commissions, or to request a list of available pieces.
Visit her store to purchase apparel, curated home decor, and limited edition gliclées.
*photo by MEL HUMMEL @M-Castro*
EXHIBITIONS
2020 "Winter Sonata", LA MATADORA, Joshua Tree
2020 "Quarantinations", LA MATADORA, Joshua Tree
2019 "Lux In Tenebris", (+co-curator) LETHAL AMOUNTS GALLERY, L.A.
2019 "BDSM show" SUPERCHIEF, L.A.
2019 Coaster Show, GALLERY 30 South, Pasadena
2018 " Noche de Calvera II " REGIME CONTEMPORARY, L.A.

2018 Frogtown Brewery featured artist, FrogTown Artwalk, L.A.
2018 "occulted religion", LA MATADORA, Joshua Tree, CA
2018 "Functional Art for Our Dysfunctional World", LA MATADORA, Joshua Tree
2017 "crystal Visons" w BitchCraftLA @ GOLDMINE, L.A.
2017 "Something Wild in My Backyard" CACTUS GALLERY
2017 Coaster Show, LA LUZ DE JESUS , L.A.
2017 Calavera show, CACTUS GALLERY, L.A.
2016 SEATTLE EROTIC ARTS FESTIVAL, WA
2016 "Loteria Show! ", CACTUS GALLERY, L.A.
2015 "Coaster Show", LA LUZ DE JESUS, L.A.
2015 The Dog and Pony Show ,ANTEBELLUM GALLERY, L.A.,
2015 D R A W N -I N 2, Q ART SALON, Pomona, CA

2015 TINY TREASURES SHOW CACTUS GALLERY, L.A.

2015 GOTHS IN THE SUNLIGHT ANTEBELLUM GALLERY, L.A.

2013 "Coaster Show", LA LUZ DE JESUS, L.A.

2010 "The Mini Show" featuring Art Center Alumni, Pasadena
2009 "Demented", ECLECTIX, S.F.
2009 Featured artist, THOUGHT GALLERY/Burgundy Room, L.A.
2009 group show, ECO-LA, L.A.

2008 group show, GHETTO GLOSS, Silverlake

2008 "Good Samaritan's", COPRONASON, Santa Monica
2008 "Blood Work" ARTery GALLERY @ the LAB, Costa Mesa
2008 COMICON, Society of Illustrators West Booth, San Diego
2008 "The Bird Show Fundraiser", CACTUS GALLERY, L.A.
2007 "The Big Money Show" COPRONASON, Santa Monica

2007 "Found Art Group Show", CACTUS GALLERY, L.A.
2007 "Tiny Treasures", CACTUS GALLERY, L.A.

2006 " Bergamot Invasion II" , COPRONASON, Santa Monica

2006 " Interwoven", Juxtapose show- ON SIX GALLERY, S.F.
2006 "Tiny Treasures", CACTUS GALLERY, L.A.

2005 "The Art of Brooke Kent " A Retrospective, The Doll House Salon, L.A.
2005 "Everything but the Kitchen Sync" LA LUZ DE JESUS, L.A.

2005 "Love Vibes Singles Show", AVE 5o GALLERY, L.A.
2005 "The Sexxx Show", Apollo Starr Gallery, L.A.
2004 GRAD SHOW, Art Center College of Design, Pasadena
2001 "The Bank Show", North Hollwood, CA
AWARDS
2004 Illustration West 43 Bronze student award
2003 American Illustration "AI 23 Chosen" (four paintings)
PUBLICATIONS & FILM
2011 ART RECESSION Documentary https://www.imdb.com/name/nm4694135/

2008 (art dept), The Blood Factory, the Blood Factory Productions, Directed by Danny Devito

2008 I Want Your Skull No. 6

2007 Copronason Fine Art "A Catalogue Raisonné" ( edited by Cushner, Fox & Katz, Last Gasp)

2007 Artist Profile, Big Wheel Magazine, (Jenny Moncoyo)

2005-6 Fishwrap V, Illustration + short story, Art Center Publication